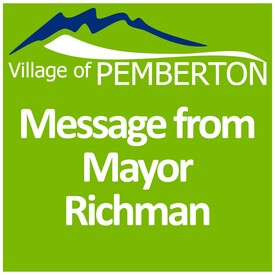 Resilient. I'm certain if you look that up in the dictionary, there would be a reference to Pemberton.
August certainly tested our resiliency and emotional capacity. Both the wildfires and the house fires in the Cottonwood complex posed unneeded stress and hardships amidst our ongoing (and albeit exhausting at times) response to the pandemic. Yet you, as a community, rose to the occasion once again with your generosity, perseverance and ability to adapt. I'm so inspired and encouraged by those who stepped up in these last few weeks to help your neighbours and community members; it is these acts alone that will see us through the weeks and months to come. Kindness rules.
On the theme of kindness and resiliency, I want to acknowledge the work of our educators and school boards. Our teachers, EAs, ECEs and support staff have been working hard in these past months to plan and create an educational framework that centres around the wellbeing and education of our kids, all in the face of uncertainty. This framework may see refinement as we pivot around the ever-evolving pandemic. This, understandably, can create anxiety for our families and children as they return to class. I urge you to communicate and be engaged with the School Board, schools and PACs throughout the year to see how you can support and to stay up to date with new information.
Finally, I encourage you to take the time this weekend to be with the people you love and care about. Let's try and leave some space for reflection and gratitude, so we can recharge that resilient fortitude that makes our community so strong and amazing.