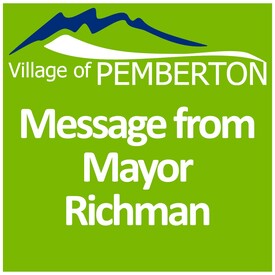 There is no power for change greater than a community discovering what it cares about. - Margaret J. Wheatley
As we begin to rebuild and reopen, we are looking to our community's creative thinkers and problem solvers to help us develop a community approach to recovery. As you may have seen, I have issued a call for members for a Mayor's Task Force that will act as a collective brain trust to help the Village develop a community-based response to COVID-19.
I'm really excited about the work that lies ahead. More importantly, I'm looking forward to working side-by-side with my fellow community members as we use our respective strengths to seize opportunities with the aim of making Pemberton stronger than ever.
If this work sounds enticing, I want to hear from you. Feel free to get in touch if you want to learn more (mrichman@pemberton.ca or 604.966.6309). The Terms of Reference can also be found on the Village's homepage at www.pemberton.ca.
I look forward to hearing from you!