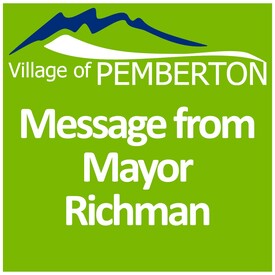 This week has brought with it a spectrum of emotions.
As a parent, I'm feeling far more complete now that my daughter has returned home from school. As a business owner, I'm feeling curious about how I can support my staff to return to work safely, when it comes time. As a partner, I'm feeling thankful that I get this extra time with my wife and family (I think they are feeling the same way
). As a Mayor, I'm feeling antsy.
Listening to the updates from the Province this week they have assured us that they will be sharing their 'Made in BC' framework for opening up the economy in the coming days and weeks. Like you, I am eager to hit the 'restart' button and begin to rebuild our economy, but in a safe and calculated way.
These cues from the Province will help inform the Village's plan and we will be calling on the bright, collaborative minds of our community to help inform our approach. Once we have a better understanding of the Province's framework, we will be sharing the details and implications with all of you. Please know that when it comes to keeping our community safe we will exhibit the same commitment and vigor in opening up as we did at the outset.
I encourage you to tune into Dr. Bonnie Henry and the Premier's updates next week, as we will be seeing new modelling and glimpses into the Provincial framework for rebooting BC. I'd also love to hear from you; if you have any ideas to share with us for our local plan, or want to be a part of the process, please drop me a line at mrichman@pemberton.ca .
Like you, I've been holding the line, being obsessive about hand washing, physical distancing and keeping to my bubble. Understandably, it can be challenging to keep committed, but we must in order to provide safety for the greater community. I continue to see this commitment to yourselves, your family and your community every day. YOU are inspiring. Thank you, Pemberton.
Have a great weekend, and keep safe.
Mike