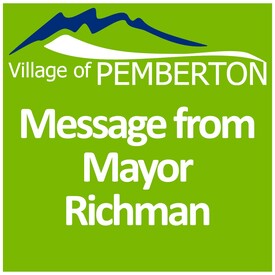 Sorry folks, this is a lengthier one. Please bear with me.
While we aware that this situation evolves and changes in a moment's notice, we are unaware of how long it will be before we have this virus under control. Our best course of action is to continue to get our information from reliable sources AND following all the preventative measures recommended by health authorities. It's also important that we remain cool and support each other on all levels.
I have been part of discussions and meetings with people ranging from our awesome doctors here on the ground, first responders, my fellow Mayors, provincial health officials, Ministers and our Village Staff. Although the situation is growing, so is my confidence that we all will get through this together. So many incredibly smart people tirelessly working TOGETHER doing so much good work on so many levels it is amazing.
To our first responders, doctors and medical centre staff, grocery and pharmacy store staff, internet providers, library staff, gas station staff and the rest of you providing necessary services: your community and I are thankful for all you are doing for us during this extremely uncertain and challenging time.
Each of you also have an important role to play. I'm sure everyone is getting sick of hearing about social distancing, but I cannot emphasize enough how this simple action will weed out this virus and keep our seniors and most vulnerable safe. Do it for your grandparents. Do it for your elderly neighbour. Parents/caregivers, PLEASE talk to your youth about this.
Over the next few days, our team will be working on ways that we can connect all of you with the services you need and to each other. Please watch this space for updates.
And just one last point of clarity – the Province's declaration of a State of Emergency may sound heavy and scary. This has been put into place mostly to give us greater access to funding, and also increases the Province's ability to exercise further emergency measures, in the event they need them.
My faith in everyone has never been stronger, let's follow preventative measures and as a result medicine and all of this great work will catch up with this situation.
All the best everyone, feel free to contact me (mrichman@pemberton.ca).
Talk soon,
Mike