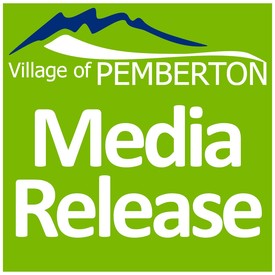 FOR IMMEDIATE RELEASE
April 16, 2018
VILLAGE OF PEMBERTON COUNCIL TO EXPLORE BOUNDARY EXTENSION
Public Consultation to Take Place in April and May, 2018
PEMBERTON, BC – On Tuesday, April 10, 2018, Village Council supported recommendations which directed staff to proceed with undertaking further analysis and to conduct community consultation with respect to a proposed Boundary Extension.  These recommendations followed a Council presentation from Urban Systems outlining the process and considerations for pursuing a Boundary Extension.    
The proposed extension would include:
The balance of Rutherford Independent Power Project (IPP):  capturing the Penstock and In-take
Miller Creek Independent Power Project (IPP): Power house, In-Take and Penstock and a portion of the proposed Community Forest area
Pemberton North Water Service Area: to which the Village provides water service
Highway 99 – Harrow Road to Pemberton Farm Road East: North and South sides of the highway: to which the Village provides some properties with water service
Pemberton Farm Road East to the Industrial Park: south side of the highway (excluding First Nations Lands): to which the Village provides some properties with water service
Area surrounding the Industrial Park (East and West) (excluding First Nations Lands): to which the Village provides some properties with water and sewer services
Recognizing there are many considerations for both the Village of Pemberton, its tax payers and potentially affected SLRD Area C residents, the Village will be hosting a Boundary Extension Open House on Wednesday, April 25th from 6pm-8pm at Signal Hill Elementary School.  The Open House aims to provide information to residents with respect to service delivery, property tax impacts, taxation of utilities, the process of making application to the Province and to gather feedback from the community with respect to this initiative.  A second Open House will take place on Tuesday, May 15th at Signal Hill Elementary, 6pm-8pm. Meeting details and format of the meeting to follow.
"Council sees great value in further exploring Boundary Extension and understanding the implications for both Village residents and potentially affected Area C residents.   Boundary Extension can realize several benefits including creating a cohesive community identity, improvement of service delivery and consistency in land use planning," says Mayor Mike Richman. "Once Council and Staff have completed its analysis, and if it's been demonstrated that there is community support to pursue a Boundary Extension, Council will consider submitting an application to the Province in May."
A key Strategic Priority since 2012, the exploration of a Boundary Extension was reaffirmed by the current Council in 2015.   As such, the Village has been exploring different Boundary Extension options with an aim to establish a contiguous boundary along Highway 99 to Lil'wat Nation, incorporate those properties that are already receiving services, such as water from the Village, and support consistent land use planning.  A key component of this exercise has also been looking at community identity with respect to where residents in this area consider themselves to live.     
If it is determined by Council that there is support to pursue Boundary Extension, affected SLRD Area C residents and Village of Pemberton residents will have the opportunity to vote on the proposed Boundary Extension during a referendum which would coincide with the Local Government elections on October 20, 2018.
Boundary Extension updates will be available on the Village of Pemberton website: www.pemberton.ca.
-30-
About the Village of Pemberton www.pemberton.ca
Pemberton is one of the most desirable communities in BC and home to family farms, fresh outdoor adventures and stunning vistas. With over 2500 residents and just 30 km from Whistler, Pemberton prides itself on its creative and collaborative approach with the business community, local volunteer groups, neighbouring communities and key business and tourism partners such as Tourism Pemberton and the Pemberton & District Chamber of Commerce. Pemberton's mild winters, warm summers and unique pioneer heritage provide an ideal place to enjoy arts, culture, history, recreation, dining, shopping and comfortable lodging.
Media inquiries to be directed to:
Jill Brooksbank
Sr. Communications & Grants Coordinator
Village of Pemberton
Phone: 604 894 6135 X230
Email: jbrooksbank@pemberton.ca
Connect with the Village of Pemberton:
www.pemberton.ca | www.facebook.com/VillageOfPemberton