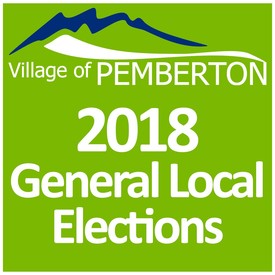 FOR IMMEDIATE RELEASE
September 28, 2018
Candidate Karen Love Withdraws from the 2018 General Local Government Election
PEMBERTON, BC – Chief Election Officer, Sheena Fraser, has confirmed that the Honourable Selina Robinson, Minister of Municipal Affairs and Housing has accepted the withdrawal of Karen Love as candidate for Council in the 2018 General Election. Ministerial approval is required for a candidate to withdraw from the election if the request to withdraw is submitted after the deadline, which was 4:00 pm on Friday, September 21, 2018.
On Saturday, October 20, 2018, eligible voters in the Village of Pemberton will elect four (4) Councillors and one (1) School Board Trustee. Mike Richman has been acclaimed as Mayor.
Two advanced polls will be held on October 10th and October 17th, 2018. Times and locations are below.
Wednesday, October 10, 2018 -and- Wednesday, October 17, 2018
between the hours of 8:00 am and 8:00 pm
Village of Pemberton Municipal Hall (White Building)
7400 Prospect Street, Pemberton BC
Saturday, October 20, 2018
between the hours of 8:00 am and 8:00 pm
Pemberton & District Community Centre
7390 Cottonwood Street, Pemberton BC
Questions regarding the 2018 General Local Government Elections can be directed to Sheena Fraser, Chief Election Officer at 604.894.6135 or sfraser@pemberton.ca
-30-
About the Village of Pemberton www.pemberton.ca
Pemberton is one of the most desirable communities in BC and home to family farms, fresh outdoor adventures and stunning vistas. With over 2500 residents and just 30 km from Whistler, Pemberton prides itself on its creative and collaborative approach with the business community, local volunteer groups, neighbouring communities and key business and tourism partners such as Tourism Pemberton and the Pemberton & District Chamber of Commerce.
Pemberton's mild winters, warm summers and unique pioneer heritage provide an ideal place to enjoy arts, culture, history, recreation, dining, shopping and comfortable lodging.
Media inquiries to be directed to:
Jill Brooksbank
Sr. Communications & Grants Coordinator
Village of Pemberton
Phone: 604 894 6135 X230
Email: jbrooksbank@pemberton.ca

www.pemberton.ca

www.facebook.com/VillageOfPemberton