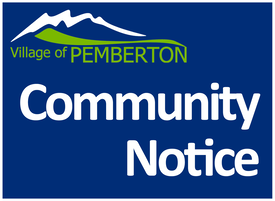 Construction on the Pemberton Farm Road East Connector project will begin on Tuesday, August 8, 2023 until October 2023. Construction work for this project will consist of road improvement work including drainage and resurfacing as well as rock blasting. Heavy machinery will be onsite as well as traffic control personnel to mitigate traffic impacts throughout the construction period. Rock blasting work is expected to start on Monday, August 14 for three weeks.
Construction work will be between the hours of 7am – 6pm on weekdays and no weekend work is expected. Community members are asked to please respect signage and crew personnel. Thank you for your patience and cooperation!
The Pemberton Farm Road East Connector project is funded through the Active Transportation Fund and the Canada Community Building Fund with the Government of Canada including the Village of Pemberton and the Squamish Lillooet Reginal District contributing. Road improvements for this project are funded by the Sunstone Group.
This project will complete one of the final stages of the Friendship Trail, by linking together the corner of the Pemberton Farm Road East and Hwy. 99 to the recreation site at Den Duyf Park and further provide a safe option for the community to walk, bike, run, and skate for work and play.