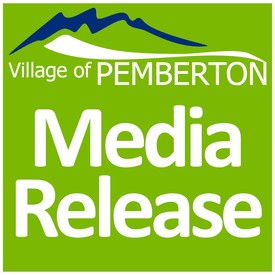 Lower Stl'atl'imx/Pemberton, BC – Commuters coming in the Village's downtown core will notice new streetlight banners, starting this weekend. Artwork from Lil'wat Nation's Levi Nelson will be proudly displayed along Portage Road.
The pieces, entitled 'Medicine Man Summoning the Spirits' and 'Creatures of Land & Water', were created in the Woodland Cree Style, an art movement originated by Ojibwe artist Norval Morrisseau, a member of the Indigenous Group of Seven. Nelson incorporates the legends and cultural practices of the Lil̓wat7ul people.
The banners also include the Ucwalmícwts place name for Pemberton, 'Nkwukwma', a word commonly used for the Pemberton area in the 1940's. The Village is grateful to the Lil'wat Culture, Heritage and Language Authority for their permission to use the word on the banners.
"As a member of the Lil'wat Nation and a lifetime local of Mount Currie and the Pemberton Valley, this project is something that I am very interested and passionate about," says Nelson. "I see it as an important step on behalf of the Village of Pemberton in demonstrating an appreciation for the local First Nations culture and perhaps practicing reconciliation in the process; this is a very positive project that I would love to be a part of."
Levi is currently in his third year at the Emily Carr University of Art & Design. Earlier this year, Nelson won the coveted IDEA Art Award, landing his artwork on the walls of Vancouver General Hospital and UBC Hospital, as part of their permanent collection.
In the Spring of 2019, the Village will be installing banner wraps on utility boxes throughout downtown, Signal Hill Elementary and at the Industrial Park featuring other works from Levi's collection.
"We are so proud and honoured to feature the incredible works of Levi Nelson. His pieces tell us important stories from our past and the land that we live on," says Mayor Mike Richman. "Indigenous art has an integral role in developing a common understanding of our shared history. My hope is Levi's banners inspire and act as an agent for conversation and change."
To learn more about check out his social media channels below:
Facebook: www.facebook.com/levi.nelson.7315
Instagram: www.instagram.com/prettyboy_dangerous/