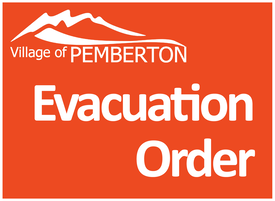 Due to the imminent danger to life safety caused by flooding in the Pemberton Valley and with the authority granted by the BC Emergency Program Act, the Village of Pemberton has issued an Evacuation Order for the following areas effective at:
June 26th, 2021 at 21:30
The Evacuation Order is in effect for the following properties and the areas on the Evacuation Order map.
All properties outlined on the attached map including:
1730 Airport Road
1690 Airport Road
1674 Airport Road
1634 Airport Road
1641 Airport Road
1691 Airport Road
1850 Airport Road
1856 Airport Road
2000 Airport Road
1441 Vine Road
1442 Vine Road
1443 Vine Road
1444 Vine Road
1445 Vine Road
1446 Vine Road
1447 Vine Road
1448 Vine Road
1449 Vine Road
1450 Vine Road
1460 Hwy 99
1480 Hwy 99
1490 Hwy 99
7374 Hwy 99
7370 Hwy 99
The RCMP or other authority having jurisdiction may control access to this area. Limited access to the area will be granted to infrastructure agencies for the purposes of protection to infrastructure and damage assessment.
Evacuate using the following routes:
South or North toward Sea to Sky Hwy 99
A Reception Centre is being set up at and will be available from 11 p.m. and remain open as long as needed for those who require emergency accommodation:
Pemberton and District Community Centre 7390 Cottonwood Street, Pemberton BC V0N 2L0
If you need transportation assistance from the area, advise the person providing this notice or call 604.894.6135