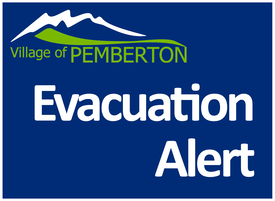 Due to unusually high seasonal temperatures and consequent snowmelt, river levels in the Pemberton Valley have been rising at a rapid rate. The BC River Forecast Centre has issued a Flood Watch and groundwater saturation has already resulted in some surface flooding. Environment Canada forecasts a prolonged extreme heat event, with temperatures expected to remain high for several days. Areas at risk include those along the water channels known as the Lillooet River, the Ryan River, the Miller River, the Green River, the Birkenhead River, Pemberton Creek, and Lillooet Lake.
Because of the potential danger to life and health, the Village of Pemberton has issued an Evacuation Alert for the following areas.
All properties outlined on the Evacuation Alert map including:
• 1730 Airport Road
• 1690 Airport Road
• 1674 Airport Road
• 1634 Airport Road
• 1641 Airport Road
• 1691 Airport Road
• 1850 Airport Road
• 1856 Airport Road
• 2000 Airport Road
• 1441 Vine Road
• 1442 Vine Road
• 1443 Vine Road
• 1444 Vine Road
• 1445 Vine Road
• 1446 Vine Road
• 1447 Vine Road
• 1448 Vine Road
• 1449 Vine Road
• 1450 Vine Road
• 1460 Hwy 99
• 1480 Hwy 99
• 1490 Hwy 99
• 7374 Hwy 99
• 7370 Hwy 99
An Evacuation Alert has been issued to prepare you to evacuate your premises or property should it be found necessary.
Residents will be given as much advance notice as possible prior to evacuation; however you may receive limited notice due to changing conditions.
Additional evacuation route and emergency support details will be providing if an evacuation becomes necessary.
For more information, view the full Evacuation Alert.