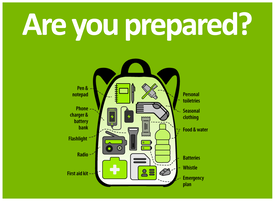 Due to the ongoing threat of flooding and mudslides in BC, it's essential you know the difference between an Evacuation Alert and an Evacuation Order and you're prepared to act.
Evacuation Alert
An Evacuation Alert provides means you should prepare to evacuate. You do not need to leave during an alert, but you do need to get ready!
Evacuation Order
If an Evacuation Order is issued, your life and safety is in danger and you must leave immediately. Take your grab-and-go bag and follow directions provided by local authorities and Emergency Services.
Check out this helpful Household Preparedness Guide from PreparedBC to make sure you're prepared and know what to do if a flood occurs.