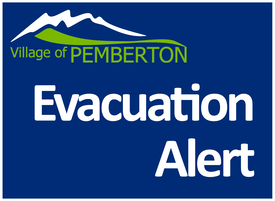 An Evacuation Alert is being issued for all low-lying properties adjacent to the Arn Canal.
A Flood Watch has been issued by the River Forecast Centre due to heavy precipitation and a greater risk for a rain-on-snow event that could melt low level snow. High water levels in the Arn Canal are being observed and an expected rise on the Lillooet River may cause a backwatering effect into the Arn Canal resulting in a further increase in water levels.
Because of the potential danger to life and health, the Village of Pemberton has issued an Evacuation Alert for all properties on the attached map including:
1428 Alder Drive
1430 Alder Drive
1432 Alder Drive
1434 Alder Drive
1436 Alder Drive
1438 Alder Drive
1423 Willow Drive
1425 Willow Drive
1427 Willow Drive
1429 Willow Drive
1431 Willow Drive
1433 Willow Drive
1400 Oak Street
7471 Urdal Road
1439 Poplar Street
7476 Prospect Street
1470 Laurel Street
7381 Laurel Street
1463 Olive Street
1464 Olive Street
1465 Olive Street
1466 Olive Street
1463 Laburnum Street
1464 Laburnum Street
1465 Laburnum Street
1466 Laburnum Street
1461 Hemlock Street
1462 Hemlock Street
1464 Hemlock Street
7408 Cottonwood Street
7400 Arbutus Street
7350 Crabapple Court
7360 Crabapple Court
All affected residents are advised to prepare properties by sandbagging. For more information on sandbagging visit pemberton.ca.
An Evacuation Alert has been issued to prepare you to evacuate your premises or property should it be found necessary. Residents will be given as much advanced notice as possible prior to evacuation; however you may receive limited notice due to changing conditions.
Additional evacuation route and emergency support details will be provided if an evacuation becomes necessary.
A more detailed outlook on this atmospheric river event will be posted on the Pemberton Valley Dyking District Facebook page. Further information will be issued as required and available at pemberton.ca and through PembertonAlert.
For more information, view the full Evacuation Alert.