PEMBERTON FIRE RESCUE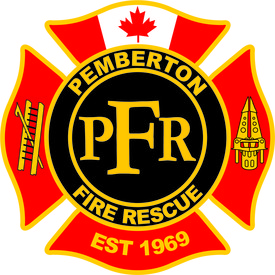 Pemberton Fire Rescue provides fire protection to the Village of Pemberton and those parts of the surrounding rural areas between the Ryan River Bridge, Mount Currie, and Highway 99 South to Tisdale. Pemberton Fire Rescue covers an area of 500 kilometres and handles approximately 250 calls per year.
The Pemberton Fire Rescue Department would not be possible without the generous support of the communities, businesses and people we serve.

Read the 2016 Pemberton Fire Rescue Annual Report
Read the 2016 Pemberton Fire Rescue Third Quarter Report
Read the 2008 Fire Audit
Apply for a Burning/Open Air Fire Permit  - Please note, due to Current Fire Ban, Pemberton Rescue will not be issuing Burn Permits.
Current Fire Ban Status
July 6, 2017 - All Open Fires Prohibited in Coastal Fire Centre